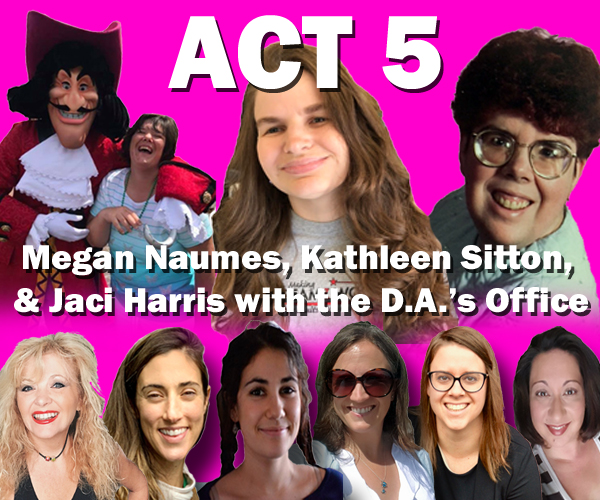 Congratulations to Act #5 on winning the People's Choice Award!* Way to go, Megan, Jaci, Kathleen, Kelly, Robin, Carmel, Lisa, Riley, Monique, and the D.A.'s Office!
*People's Choice was determined by online voting.
March 19, 2020
RE: Live to Dance 2020
Dear Dancers, Sponsors, and Community Members:
As you know, our 10th Annual Live to Dance with The Arc Stars Fundraiser and Celebration planned for March 14 was canceled due to the Coronavirus/COVID-19 outbreak. We immediately began efforts to plan Live to Dance Take 2. As things change daily, sometimes hourly, we now feel that Take 2 should be postponed indefinitely. As sad as this makes us, there is no choice. We simply cannot go against guidelines and ask people to gather.
Dancers and choreographers, please know how appreciated you are. The amount of time and talent you contribute is nothing short of amazing. As we began to gather votes for each group, it became immediately apparent that the community was excited to offer its support! Your trophies are at The Arc Offices, N. Central Avenue in Medford. Please call before you come by for pick-up: 541.779.4520.
Sponsors, we are in awe of your support and faith in our agency. Thank you so much. As we continue to operate our programs while facing this loss, we hope your sponsorship can be honored as a direct donation to The Arc. If not, we absolutely understand if you'd like us to return your sponsorship dollars. Please just contact us at 541.779.4520 or tara@thearcjackson.org.
Ticket Holders & Community Members, thank you for your support of The Arc Jackson County and our dancers. As we continue to operate our programs and serve individuals with I/DD, we hope your ticket investment can be honored as a direct donation. If not, we absolutely understand and are happy to refund your ticket costs. Contact us at 541.779.4520 or riley@thearcjackson.org.
Thank you all, and be well.
Tara Stoll, Executive Director